Damage that a leak can cause: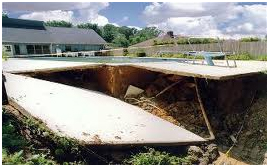 Swimming pool leaks can cause numerous problems, such as structure damage and erosion that can lead to settling of concrete around and under the pool. If your pool has a liner a small hole can grow to a larger hole under water pressure. Also the cost of refilling the pool and the amount of chemicals that are lost can add up quickly. 1 inch of water loss in a 30,000 gallon pool can leak over 450 gallons per day.
Determine if and how much the pool is leaking.
Gathering as much information about and how much water loss there is will assist in determining where the problem is. Depending on your climate, you can determine whether you have evaporation or a leak by doing a Bucket Test. This is done by filling a bucket with pool water and putting it on the steps of the pool. Mark the water level in both the bucket and the pool and monitor it for 24 hours. If the loss is the same then it is a good possibility that it is evaporation.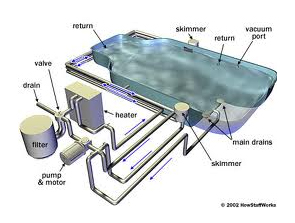 Another simple test is monitor the pool for 48 hours with pump on/off. For the first 24 hours with the pump on and the second 24 hours with the pump off. This can help determine if the leak is in the structure or in the plumbing.
Whenever you are in doubt about a leak contact Chris Tally to discuss your leak and gather information. Sometimes the problem can be determined over the phone.
After realizing the pool is leaking:
Call Chris Tally and he and his crew will decide the best approach to locate and repair the leak. Whether the pool is residential, commercial or a water park the first step is to rule out the structure. This is done with the latest equipment such as electrical detectors, dye packs, divers and cameras. If the pool has water features such as a spill over spa and fountains, we will go through a process of isolation to narrow the problem down.
If the problem is in the plumbing, we can determine what part of the system the leak is in and locate the problem with air, water or helium pressure and the latest detection equipment. After determining  the problem we will discuss the method for the repair and cost. At anytime while the detection and repairs are being done, any question will be answer with a complete explanation and a report will be provided so that the owners and managers have a complete understanding of the process.
Detection can be done without damaging the pool and most repairs can be done without removing large amounts of concrete around the structure of the pool.
Bucket test